Freedom Therapeutic Massage
Hot Stone Therapy - Saskatoon
My Specialties

Hot Stone Massage Therapy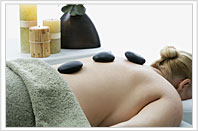 Hot Stone Therapy is the skilful art of bodywork utilizing various size, form and weights of warmed, smooth, flattish stones. The pre-warmed stones are used in combination with massage techniques to stimulate the circulatory system. The heat and pressure of the stones are used to warm, soften and relax tight, aching muscles; while promoting an extraordinary feeling of relaxation and contentment. These rocks are made of smooth volcanic Basalt are used because of their high iron content and ability to retain heat.
While the hot stones soften the body muscles and help to release toxins, your trained therapist will also apply Swedish massage to the warmed areas of your body. The combination of heat and pressure from the rocks help to penetrate deep into the muscles in a less invasive manner creating a more soothing treatment.
A number of specific therapeutic benefits are attributed to the skilful application and usage of hot stones. Health conditions such as deep muscular aches and pains, stress, circulatory problems, arthritis, fibromylagia, sleep problems and others, can benefit wondrously from skilfully applied Hot Stone Therapy.
Hot Stone Therapy is definitely an experience that keeps clients coming back for more. We invite you to experience it for yourself by visiting our appointment book to book a session with us. We look forward to seeing you soon!
If you have never experienced this unique indulgence, you owe yourself this exquisite moment.
Questions?
Feel free to contact us with any questions or concerns you may have.
Hot Stone Therapy – Relieves Stress and Anxiety-
Improves Circulation- Lava Rocks